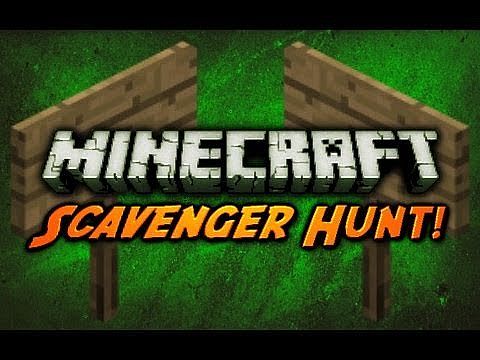 Good day all, I will be hosting a Minecraft scavenger hunt on TV5 on Sunday November 1st, everyone is welcome!
When? - Sunday November 1st, 2015
Time? - 8PM Ville Time (CST), 9PM Eastern, 7 PM Eastern, 6 Pacific.
Where? - TV5, our minecraft server.
What? - A scavenger hunt !
Please meet in the Teamspeak minecraft channel so we can all communicate clearly.
Yes, a scavenger hunt. Its a very simple format. Were going to all meet at spawn, then I will lead you to an area that I prepared, I will provide you with a list of 20 items that you have to find and bring back to me, and off you go !
To keep the playing field even, I will have everyone remove all items from their inventory and store them in chests that are provided. You will then be issued a basic set of equipment to wear/use during the hunt so everyone starts on equal footing.
Beds will be provided, so if you do perish during the hunt you will respawn at the event area.
I will have a small set of rules/regulations to add at the time of the event as well as the list of items you need to find and return with.
What will you win? If you finish in first, second or third you will win bragging rights and be admired by your peers for your l33t minecrafting skillz. All others will get an participant award that resembles a block of cobble, suitable for framing if you wish.
Again please reply here if you are participating so I know who to expect, also dont forget that daylight savings time ends on Sunday so you need to set your clocks back one hour.
JD