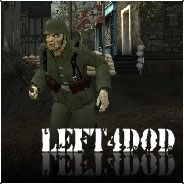 After nearly 12 years of continuous World War II zombie action, The Ville will be retiring Left4DoD on April 1.
Created by our very own Dog and
announced on May 15, 2009
, Left4DoD is a Day of Defeat: Source mod that turns the Axis soldiers into zombies with a singular mission of hacking the Allies to pieces. The mod featured 15 types of infected, a purchasing system for equipment and other unique twists on the gameplay.
While Left4DoD had a strong and dedicated following for many years, the number of active players has slowly fallen as time has passed. In the interest of fiscal responsiblity Dog and the server admins have agreed it is time to shift our resources and look to the future.
TV9 which has hosted Left4DoD for many years will be converted to an Events server, available to host a wide variety of games without incuring costs each time we change things up. Initially it will run TF2 for use in our recent revival of monthly gatherings, but if we want to have a throwback Counter-Stike or Day of Defeat night the server will be available for that as well.
Join me in thanking Dog for creating this unique and original mod which provided thousands of hours of fun on TV9 during it's run!

For anyone interested in future development the full source code is
available on GitHub
.